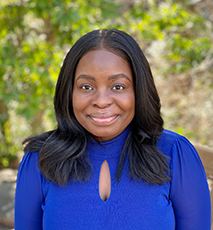 Contact Information
Email
cdupree@emory.edu
Phone
404-727-4955
As the CFDE's project coordinator, Clarissa Blackmon works with the Center's various directors to develop project strategies, create schedules, and oversee progress to make sure the department goals are met promptly.
Clarissa is a navy disabled veteran who received the Joint Service Commendation Medal because of her achievements performed while exposed to hostile action while serving with friendly foreign forces.
During her decade of employment at Emory, she has gained a deep understanding of healthcare delivery in an academic health environment. She has developed core competencies in problem-solving, strategic thinking, and innovation while becoming an effective leader.
Clarissa has her B.S. in Health Service Management from DeVry University and her master's in Healthcare Administration from Capella University.