Aug 11-12: Summer Teaching Intensive
---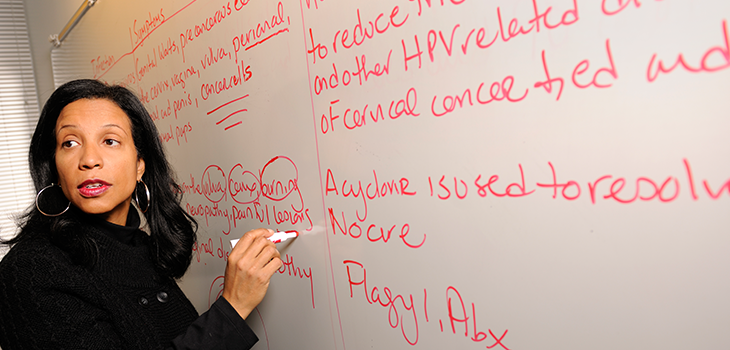 Aug 11-12: Summer Teaching Intensive Schedule

Thursday, August 11, 2016
Friday, August 12, 2016
9:00-5:00pm
102 Center for Ethics

The Summer Teaching Intensive is aimed at addressing issues and interests that faculty have brought to us through teaching consultations and other conversations. We have collaborated with faculty and staff who have expertise in different types of pedagogy to suggest strategies and best practices.

The intensive consists of eight modules led by Emory faculty and staff. All faculty are welcome. You can come for one module or come for them all.

Date
Time
Description
Thursday, August 11
9:00-9:30
Sign in & Light Snacks
9:30-11:00

Session 1

Navigating Difficult Conversations

Ellen Ott Marshall, Associate Professor, School of Theology

In this session participants will discuss both proactive and reactive strategies and best practices for having difficult conversations and talking across difference in your class. How can we develop learning environments that empower students to disagree in a civil way?

11:00-11:15
Break
11:15-12:45

Session 2

Teaching International Students at Emory

Hiram "Max" Maxim, Professor in the Department of German Studies
Jane O'Connor, Director, ESL Program
Shan Mukhtar, Assistant Director, ESL Program

Over the past decade, American colleges and universities have witnessed a substantial demographic shift as institutions undertook initiatives to recruit and admit a more diverse student population. However, support of and training for faculty has not kept pace with the rising enrollment of international students. In this session, we will focus on how to best support our international students.

12:45-2:00
Lunch
2:00-3:30

Session 3

How to Manage/Organize Multiple Sections of a Course

Megan Cole, Lecturer, Biology
Robyn Clarke, Director of the Spanish Language Program & Lecturer in Spanish

This session will suggest best practices for managing multiple sections of a course such as language labs or science labs. Topics addressed include organizational skills, managing TAs/discussants, grading consistency across sections, and adjusting to unevenness across courses (e.g., one section may have very talkative students, whereas the other section has mostly quiet students).

3:30-3:45
Break
3:45-5:00

Session 4

Multidisciplinary and Team Teaching panel (Loichot & Loudermilk)

Friday, August 12
9:00-9:30
Sign in & Light Snacks
9:30-11:00

Session 5

Archival Methods: Primary Evidence in Teaching

Courtney Chartier, Head of Research Services
Heather Oswald, Public Services and Outreach Archivist
Hank Klibanoff, James M. Cox Jr. Professor of Creative Writing

Archivists from the Rose Library in tandem with a faculty member will lead a session focused on opportunities to incorporate archival resources into your teaching. The session will include an introduction to archival methods that can impact research, an overview of Atlanta area archives, and examples for innovative assignments using primary sources for a wide range of disciplines.

11:00-11:15
Break
11:15-12:45

Session 6

Engaging Students in Large Lecture Courses

Marjorie Pak, Senior Lecturer in Linguistics
Jonathan "Nat" Flacker, Professor in the Department of Medicine

There has been great debate as of late about the efficacy of lecturing as a pedagogical approach. At the same time, more and more faculty are being asked to teach larger classes (as opposed to seminars). How can we keep the classroom interactive when our classrooms keep getting bigger? In this session we will discuss strategies for engaging students in medium sized (50 students) and large lecture (150) courses.

12:45-2:00
Lunch
2:00-3:30

Session 7

Developing Online Courses

Stephanie Parisi, Assistant Director of Online Learning, CFDE

Have you ever been curious about what goes into developing an online course? This session will cover the basics of the online course development process, address challenges, and offer first hand experiences from the instructor perspective. This session will provide an engaging discussion and strategies for the planning and development of online courses.

3:30-3:45
Break
3:45-5:00

Session 8

How do you develop a teaching persona? (Scully and Hartfield-Mendez)
End of day panel discussions:
How to Develop Your Teaching Persona
Pamela Scully, Professor of WGSS and African Studies & Director, CFDE
Vialla Hartfield-Mendez, Professor of Pedagogy, Spanish and Portuguese & Director of Engaged Learning, CFDE
Are great teachers born that way or is excellent teaching something someone can learn? In this discussion we will assess our strengths and weaknesses in the classroom and suggest ways to build on strengths and work through your weaknesses. Topics may include: classroom management, lecturing, collaboration, facilitating discussion, as well as setting boundaries.
Multidisciplinary and Team Teaching
Valerie Loichot, Professor, French and English
Kim Loudermilk, Senior Lecturer, Institute for the Liberal Arts
As silos between schools slowly break down, more opportunities to teach across discipline and school present themselves. This session will address the unique challenges presented by multidisciplinary and team teaching as well as highlight the ways this type of teaching can help enrich both your teaching and your research.
Share This Story