CFDE Featured Faculty Member: Ken Carter
---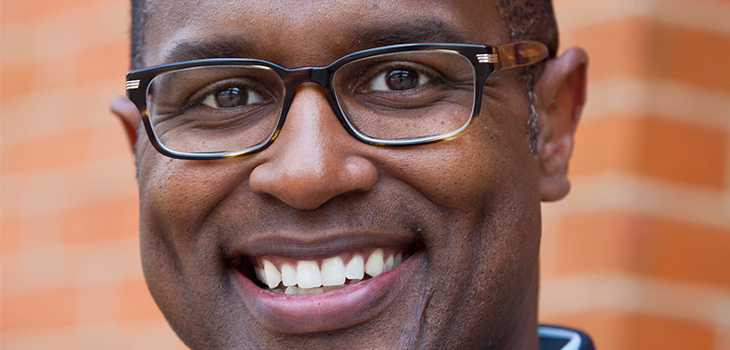 Ken Carter, Professor of Psychology at Oxford College, sees himself as a translator of academia. He likes, he says, "to translate scientific information for everyday people" and enjoys "finding the psychological concepts that other people have researched and helping to explain those concepts in everyday language." As an Oxford College faculty member, he says teaching is utmost, but his work as a public intellectual helps him take his teaching "outside of the classroom" to a wider audience.
Carter refined his skills as a researcher, writer, and public scholar by making use of myriad resources from the Center for Faculty Development and Excellence. Though he is based at Oxford College, Carter says it is still easy to connect with the CFDE. 
"Having a lot of the resources online is helpful," he notes, as is CFDE staff responsiveness to phone or email queries. While beginning work on a manuscript for a book about thrill-seeking, in 2013 Carter applied for a Scholarly Writing and Publishing (SWAP) grant, which provides funds to help faculty engage professional editorial support for writing projects.
"I had been thinking about writing a book on thrill-seeking for a long time," Carter says, "but I wasn't sure what the process of writing that book proposal would be like, because I wanted to write a hybrid between a trade book and one that would come through a scholarly press." He was excited to learn that the CFDE had funds available to help him with that process. With the SWAP grant he crafted a proposal and a couple of sample chapters.
From there, Carter made use of the CFDE's Meet the Editor and Agent program, through which he connected with a literary agent who helped him find a publisher for his book. The book, titled Buzz! Understanding Thrill Seekers and the High Sensation Personality, is coming out next year with New Harbinger Publications.
"It really came down to whether we were going to look at a trade publisher (like New Harbinger) or a traditional academic publisher," Carter says. "The audience for this book is the every day person, so we thought that a trade publisher would be a great way to go."
Carter says one of the biggest things he learned from the process of shopping a hybrid trade/scholarly manuscript is the necessity of a social media strategy for Twitter, Facebook, and similar platforms. It's essential, he says, to "make sure that your social media and your website are public-ready, so people know who you are and see you as an authority or an expert in a certain topic." He shared his newfound knowledge in a CFDE workshop, "Building Your Book Platform," which is available as a video on in the CFDE online Knowledge Hub.
Further securing his role as a public scholar and an expert on the psychology of adrenaline addiction, Carter is now working with the CFDE to develop a Coursera course on thrill-seeking, set to be released around the same time his book comes out in 2018.
He encourages other faculty to sit down with a staff member at the CFDE to look at the range of services, especially the resource he says helped him most, the Meet the Editor and Agent program.
"I just think they're amazing," he says, "I feel really happy they're able to help out with all these different projects I'm working on."
Share This Story