CFDE Comings and Goings
---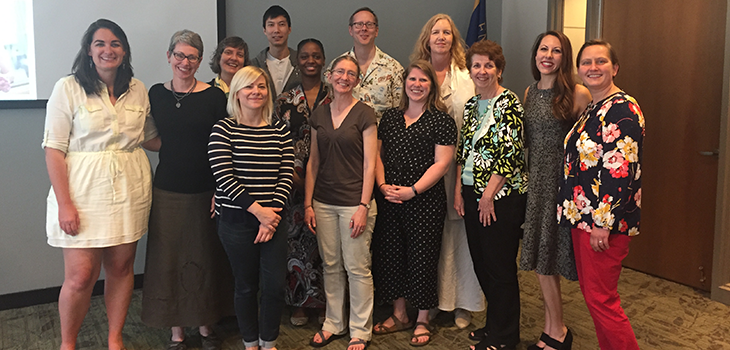 Congratulations to the three graduate students who have worked in the CFDE and are graduating this year!
Sarah MacDonald was the 2016-17 Dean's Teaching Fellow in the CFDE, then served for a year as the graduate assistant for online learning. Sarah received the PhD from the Graduate Division of Religion, working at the intersection of Christian social ethics and conflict transformation Her current research focuses on ethics of solidarity in the context of faith-based international nonviolent activism. Sarah has accepted a position as teaching, learning, and technology consultant at the Center for Excellence in Teaching and Learning of the University of Wisconsin-Milwaukee. 
Molly Slavin was a graduate assistant editor in the CFDE for five years. Her primary responsibilities were writing weekly editions of ThoughtWork, helping to coordinate the annual Feast of Words event, and providing editorial support for the Academic Exchange. Molly received the PhD from the Department of English, specializing in postcolonial and contemporary British and Irish literature. 
Daniel Yu was the 2017-18 Dean's Teaching Fellow in the CFDE. He received the PhD from the Department of Comparative Literature. His research focuses on the representation of gift-giving and disinterest in eighteenth-century texts. He teaches Renaissance to early modern French and British literature, sociology of religion, and creative writing – poetry. His scholarly work has appeared in Eighteenth-Century Fiction. Daniel has accepted a position as visiting assistant professor of English at St. Mary's College of Maryland. 
And a warm welcome to the two who will be joining us in the fall!
Jennifer Hayward will serve as the 2018-19 Dean's Teaching Fellow in the CFDE. She is a candidate for the PhD in the Department of Sociology. Her research has focused on classroom management skills and the creation of classroom idiocultures. Idiocultures describe systems of shared knowledge, beliefs, feelings, and behaviors that serve as a frame of reference and basis of interaction for individuals. My research identified three main types of classroom idiocultures at the undergraduate level that develop throughout the academic term, and highlighted the elements that make for successful, enjoyable courses, as well as aspects that led to unsuccessful, negative courses.
Kelly Duquette will join the CFDE as the new graduate assistant editor in fall 2018. Kelly is a second-year English PhD student. Her research focuses on representations of national, cultural, and racial identity across the British-Irish archipelago in the seventeenth century. More specifically, she is interested in the ways drama and poetry engage ideas of "Britishness" amidst the shifting contours of political and physical landscapes.
Share This Story