University-Partner Learning Communities Begin to Bear Fruit
---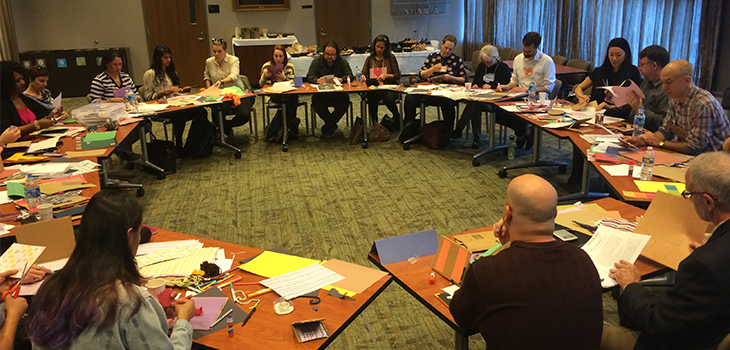 Over the past three years, the Engaged Learning Program in the CFDE and the Center for Civic and Community Engagement in Campus Life have co-sponsored an innovative model for academically-oriented community engagement and community-oriented academic engagement.
Co-facilitated by the CFDE's Director of Engaged Learning Vialla Hartfield-Méndez and the CCCE's Director of the Community Building and Social Change Fellows Program Kate Grace, a UPLC includes students, faculty, staff, and community partners interested in learning together how to create excellent community-campus partnerships.
Projects that emerge from this process reflect community needs, interests, and on-the-ground knowledge and are supported by the academic inquiry and expertise of Emory participants. The pilot UPLC focused on the Buford Highway Corridor in spring 2017 and a second Buford Highway UPLC is currently under the direction of Rollins School of Public Health Professor Karen Andes, a participant in the pilot program.  Additionally, a UPLC focused on South DeKalb County was formed in fall 2018.  
As a result of the pilot Buford Highway University-Partner Learning Community, Emory University students and faculty participated in:
a project to begin mapping the linguistic landscape of a key area of the Buford Highway area, in collaboration with local residents (faculty partner: Hiram Maxim)
collaborating with the Chamblee Library on the Living Library project in which community members tell their stories (faculty partner: Kim Loudermilk)
working with Cross Key High School students through theater to learn to tell their personal stories effectively (faculty partner: Elva González; this project is continuing and will be further developed in spring 2019 with a course that González is teaching, supported by a community-engaged learning grant)
developing and implementing a participatory arts-based project for health awareness in an after school youth project at Cross Keys High School (faculty partner: Karen Andes)
continued engagement with the ongoing Cross Keys DeKalb Sustainable Neighborhoods Initiative (continued engagement facilitated by Kate Grace)
renewal of partnership between Emory and the Latin American Association for Emory to host the Latino Youth Leadership Conference in fall 2019 and engage in conversations about how to deepen that relationship (faculty partners: Vialla Hartfield-Méndez, Karen Stolley, Karen Andes)
submission of an ALCS-Mellon Scholars &  Society grant application for continued partnership with the Latin American Association (submitted by faculty partner Karen Stolley with support from Vialla Hartfield-Méndez)
Share This Story