Call for Proposals: 2019-20 FIT Grants
---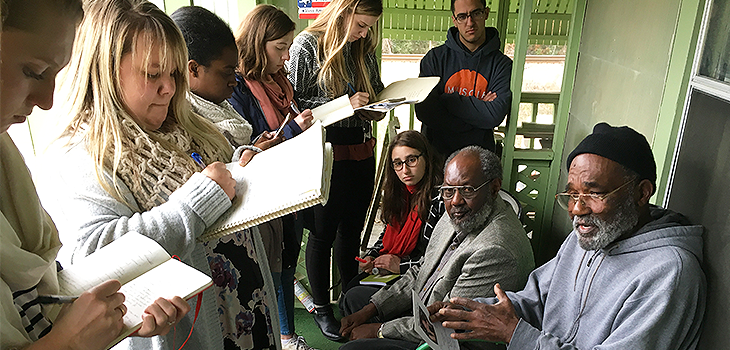 The Center for Faculty Development and Excellence offers the Fund for Innovative Teaching (FIT) Grant program to support faculty teaching.
Funds are available to support innovative undergraduate, graduate, and/or postgraduate teaching at Emory. We are now accepting applications until April 29, 2019.
Grants range from $500 to $5000. FIT Grants are open to all full-time faculty (both tenure and non-tenure track) and are available for both individual faculty members and faculty working as teams. Priority will be given to those whose proposals promise long-term educational effects within the Emory community.
Funds support a variety of new approaches:
Courses that support recent discoveries in research and take that research into the classroom
New interdisciplinary courses that move across departments or across schools
Courses that use creative pedagogical approaches, (some examples: developing a consortium across Georgia colleges and universities on a specific topic, development of virtual "rounds" in a hospital, or flipping a classroom).
The submission must include
The proposed innovation
Course outline or proposed syllabus
Budget
Schedule for integration of the proposed project in the classroom setting.
A letter of support from your department chair.  If requesting funds for software/hardware, this letter must outline a departmental management plan for long-term sustainability of those materials in your department or confirm that the hardware goes to CFDE after the grant ends.
Grant proposals will be judged on the basis of four criteria:
The suitability of the project for the areas described above
The clarity of educational purpose
The proposed budget as reasonable and sufficient to accomplish the aims of the study
The clarity of how the proposed development is above and beyond normal course development and/or improvement
Grantees will be required to
Attend two meetings in the academic year of the grant to share information on projects with other recipients. The times and locations are TBD.
Provide a report that includes

A final syllabus
Student evaluations that include students' opinions of the new approach and how it affected their learning
Plans for the future of this topic.
Please note: 
Only one proposal per project will be considered.
Applicants must have their own Smartkey/Speedtype account or be connected to a department that has a Smartkey/Speedtype account.
If accepted, the applicant must commit to two meetings in which FIT recipients will meet to discuss their projects.
75% of total approved funding amount will be disbursed upon selection and receipt of your departmental Smartkey/Speedtype, and will be transferred at the beginning of the new fiscal year (early September 2019)
The remaining 25% will be transferred upon submission of the project summary report at the end of the semester.
The funds may be used for reimbursements. (However, gift cards of any kind are not allowed.)
Funds may be used for direct and incremental expenses only.
The funds cannot be used for honoraria for Emory faculty, but can be used for summer salary support for the proposer. Need for summer salary support must be carefully justified.
FIT grants are contingent on CFDE budget approval from the Provost's office.
Sample FIT Grants
Share This Story