From FIT Grant to Award-Winning Podcast
---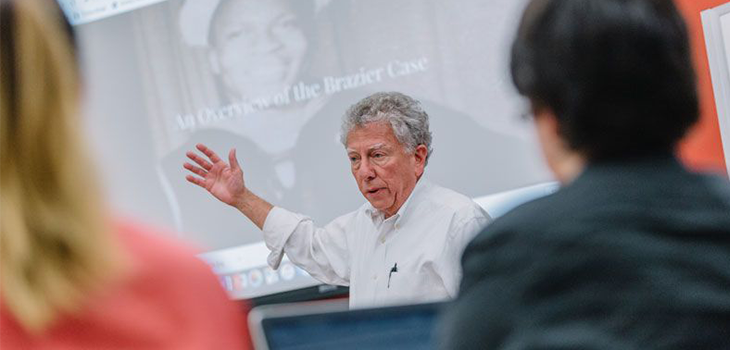 "Buried Truths," an acclaimed podcast led by Emory professor and Pulitzer Prize-winning author and journalist Hank Klibanoff and produced by Atlanta NPR station WABE, has received a 2018 Peabody Award and a 2019 Robert F. Kennedy Journalism Award.
"Buried Truths" is based on the work of the Georgia Civil Rights Cold Cases Project, which began in an Emory undergraduate classroom with support from the CFDE Fund for Innovative Teaching in 2011. 
The project is both a class and an ongoing historical and journalistic exploration of the Jim Crow South. Emory undergraduate students are examining Georgia history through the prism of unsolved or unpunished racially-motivated murders that occurred in the state during the modern civil rights era. By using primary evidence – including FBI records, NAACP files, personal archives, family photographs, old newspaper clippings, court transcripts and more – and by immersing themselves in the scholarship of historians, journalists and memoirists, students come to see and understand a history that is little known from the inside looking out and long forgotten from the outside looking in.
The first season of the podcast centered on the case of Isaiah Nixon, who was murdered by two white men in 1948 for voting. Decades later, Klibanoff's students uncovered and solved the mystery of the circumstances surrounding Nixon's death.
Klibanoff credits the success of the podcast to all of those who have contributed to both the show and the cold cases project — from producers to students to former Emory professor Brett Gadsden, who initially co-taught the class with him.
"If ever there was an award for an entire village, this is it," Klibanoff says. "But without the open-minded, curious and resolute 130 students in the Emory classes that professor Brett Gadsden and I have taught, this award — and the podcast, 'Buried Truths,' itself — would not have been possible," he continues.
"From the beginning in 2011, Emory College and Emory University saw the point and the purpose of this course and have been steadfast supporters of it ever since; for that, I am filled with gratitude."
"Buried Truths" is now in its second season, and the Georgia Civil Rights Cold Cases Project continues each fall semester in Klibanoff's class. 
Share This Story