In-Person Teaching: Learn More, Ask Questions
---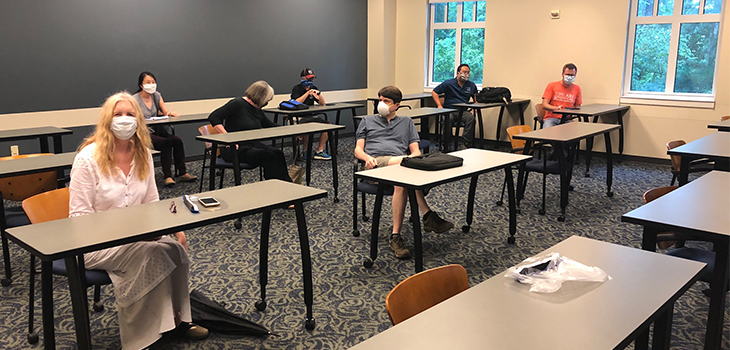 Emory faculty have been paying a great deal of attention to online teaching this summer. We also want to give those teaching in-person a sense of what that experience will be like in the fall 2020 semester.
To learn more, all are invited to attend a Zoom discussion at one of these times:
Friday, June 26, noon – 1 pm
Monday, June 29, 4 – 5 pm
Tuesday, June 30, 9:30 – 10:30 am
During these discussions, you will hear from CFDE director Eric Weeks, Samuel Candler Dobbs Professor of Physics, who been part of a group testing classroom spaces for in-person teaching this fall semester. He and other faculty who have tried teaching in these spaces and sat in the student seats of the classrooms will talk about what they learned. Eric will show some quick video clips to give you a sense of the teaching experience.
Experts from Emory's Environmental Health and Safety group (EHSO) will also be there to talk about classroom safety precautions, and others to talk about classroom signage to support those safety precautions.
The discussion will also include pedagogical support for in-person teaching in these new socially-distanced classrooms. You will learn more about the cleaning procedures that will be used for the classrooms, and hear about HR matters relevant for returning to campus. And there will be plenty of time to answer your questions.
The three discussions will be similar; you are welcome to attend whichever fits your schedule best. Please follow the relevant registration link above to receive the Zoom invitation.
Share This Story